Fill The Basket!
At Metro Brokers Grand Junction, Inc. we are helping our community food bank by participating in this worthy event. The Grand Junction Area Realtors Association members will be collecting non-perishable food and household items on Saturday, March 24, 2018, at local participating Walmart stores. You can stop by our office at 605 25 Road, Suite 100 to make your donations or stop at any local Walmart store on March 24
th
to donate. Our hours are Monday – Friday 8am – 5:30 pm, and Saturday 9am – 4pm. Our community food bank thanks you for your help and donations!
Participating Walmart stores:
Rimrock Center:
2545 Rimrock Ave, Grand Junction, CO 81505
North Ave:
2881 North Ave, Grand Junction, CO 81501
Neighborhood Market near Central HS:
541 Warrior Way, Grand Junction, CO 81504
Click here to view the flyer
Featured Agent of the Week: Beth Cotlar
Congratulations to Beth Cotlar, with Jan Garber & Associates, our featured agent this week! Beth brings 10+ years of knowledge in advertising sales with an innate understanding of interior design, to her real estate career. These skills offer her clients added benefits when marketing their homes to sell or when purchasing new properties. Beth understands how best to showcase a home's assets when selling, and, if buying, Beth is uniquely skilled at identifying the details that a client defines for their dream home!
In her free time, Beth is a volunteer with Hilltop's "Extraordinary Women" program, which raises funds to benefit Latimer House in Grand Junction, safe houses, and other services for domestic violence victims in several counties. The need, according to Hilltop, is clear: "One in every four women will experience domestic violence in her lifetime …Domestic violence is the leading cause of injury to women – more than car accidents, muggings, and rapes combined. Most cases of domestic violence are never reported to the Quick read more or view full article police." Hilltop has an upcoming fundraiser specifically for the "Extraordinary Women" program featuring artwork for sale. Anyone who wants to donate to this great cause can donate money or original art pieces to be sold online. For more information on how to support this organization, please visit their website. For donations, make checks payable to Latimer House. Contact Beth, she is happy to help get your donations to them.
Beth is eager to assist you with any of your real estate needs whether it is buying or selling a home, or looking for investment opportunities through real estate. You can contact her at
beth@mbgj.com
, or call 970-243-3376 or 713-208-5103.
Read Less
What a Thrifty Cause
Metro Brokers Grand Junction Inc. held a parking lot sale Saturday May 7th to raise money and awareness for a cause that is close to everyone's heart, Relay for Life and The American Cancer society.The American Cancer Society- Relay for Life. With the help of our clients and friends we had lots of great items donated that that then were sold at the yard sale. People came out in the rain to shop and eat. We grilled hot dogs and hamburgers and had the cutest kids serving lemonade. It was a huge success with over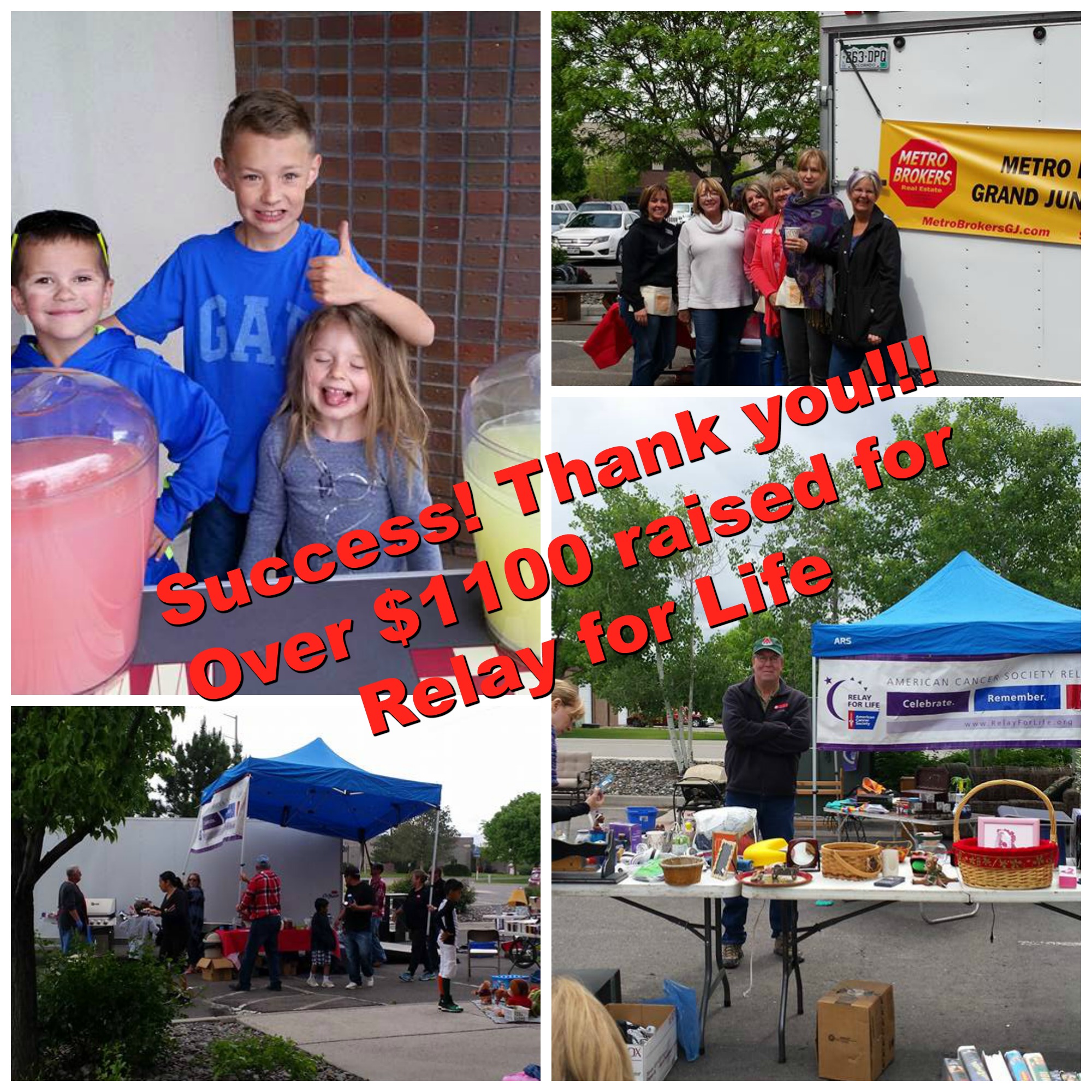 $1100 raised the day of and we still have donations coming in. We will continue to collect donations until the American Cancer Society Relay for Life on

June 11th

.
We want to THANK EVERYONE that donated, showed up in
support, bought great stuff and ate some darn good Quick read more or view full article burgers. We had a great time and will continue to accept donations through June 11th. We love our community.
Metro Brokers Grand Junction Inc.
It's not just property, it's people. Read Less